An overview of address auto-complete
The subtle differences: having address autocomplete technology running in the background can offer powerful features to avoid common mistakes when filling in a form or checking out. This helps to prevent more problems down the line, such as:
Typos and misspelling of addresses that can't be used
Delays in deliveries and logistics due to incorrect addresses entered
Increased shipping and logistics costs due to incorrect addresses and undeliverable shipments
In-store pickup or time slot delivery being inaccurate or incorrect
Language barriers between businesses and customers in certain regions trying to communicate address information
Fraudulent activity and ineffective KYC initiatives
Why it should be considered: every eCommerce store or online web form wants more conversions. Address Autocomplete supports this by providing a speedy checkout experience for customers while giving businesses only clean, deliverable address data.
With predictive, type-ahead features, businesses can ensure correct, formatted, deliverable and accurate addresses are entered in their systems directly at point-of-entry. This decreases the number of inaccurate, incomplete or unstandardised addresses while increasing successful orders. Address Autocomplete can reduce the number of keystrokes required when typing an address or postcode by up to 70 percent; this makes quite the difference when applied to usability and the overall customer checkout experience. In addition, it increases the likelihood they will complete their purchase or conversion.
Another note to take into consideration is the number of working hours taken to research or contact the customer for their correct address information.
With just a few keystrokes, the address fields can automatically be filled with valid information; address acquisition is accelerated and entry errors are mitigated all the same time. From a long term perspective, overall data quality is achieved to improve marketing and communication campaigns, analytics, loyalty programs and further business development opportunities.
Always remember that timely delivery of goods is at the forefront of a customer's list of expectations when ordering online. Software that not only speeds up that initial checkout process but provides global address data immediately upon entry will reflect in speed, accessibility, and the overall service.
Below is a table showing the differences between a retailer using Address Verification and without Address Verification via an address checker API.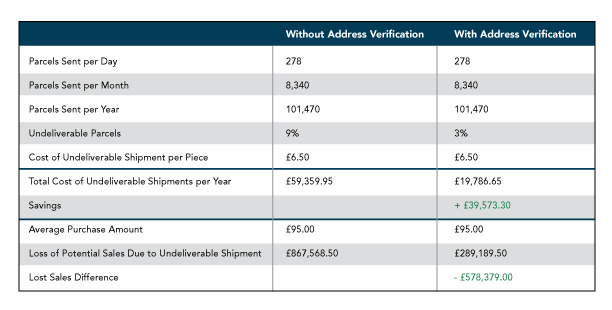 We can see that the online fashion shop reduces undeliverable parcels from 9% to 3% annually and experiences growth in sales and lowers costs after implementing address verification technology.
The results show that 278 packages per day are sent out, which amounts to approximately 100,000 parcels per year. At an average amount of 9% per year of undeliverable parcels for online retailers, while it's impossible to completely eliminate undeliverable packages, they have been cut down to two-thirds. This reduces the cost in undeliverable shipments by £40,000 per year and saves an additional £578,379 on sales.
Take a look at our eCommerce ROI Calculator to work out your potential savings.
How does Address Autocomplete work?
Having an address validation tool embedded on a website to service billing and shipment section when customers check out, or an online webform let's say for an insurance quote, or onboarding customers when they need to open an account that requires verification, they all use the same API process which works in the backend. This service makes several API calls to aggregate multiple reference global data sources, bringing together a suggestion of reliable, single best records for a customer to choose from. It works much like an internet search engine, but for postal addresses. The result is being able to ensure validated addresses are entered for 250 countries around the world. Address Autocomplete will also standardise and transliterate inputs entered to give a verified address output that can be recognised and serviced. Our article 'What is address transliteration' explains this in more detail.
You can see how our Address Autocomplete functionality works.

Capabilities
When choosing Address Autocomplete or address verification technology, it's important to choose the best provider that can verify, clean and correct address data for not only the UK but for international address data. The right provider with have the solution pertinent to your requirements and will scale with your business.
As address autocomplete is an invisible service running in the background, it's important to note what's essential for a reliable solution:
Fewer lookups to validate address information - meaning better reference datasets and sources throughout; this is vital on an international level as accuracy may differ.
Multiple Residence data or building unit data – over a quarter of UK addresses are made up of flats and multi resident properties with many sharing the same front door. This also includes apartments, floor numbers and suites; customers need to be able to select such addresses on an international scale.
Simplified UX – When engaging on a webform for checkout, it should automatically align with the user's intent and the way a person would naturally search for an address in any given country. Having advanced fuzzy matching features will ensure addresses automatically meet the correct format and languages even when there are user errors.
Location Intelligence – The solution should be able to offer geo coordinates with the flexibility to enhance latitude and longitude coordinates to rooftop geocoding locations, which opens up the potential to offer enhanced logistical services.
Location Detection – When users are entering an address, the Autocomplete tool should be able to detect which country that person is in when matching the addresses. This will enable a single checkout form for all your customers in any region.
Reliability & Scalability – Some businesses may have higher volumes of requests per minute so it's important to have a solution that can support high-speed or high-volume transactions.
Data Quality – It's important that your Address Autocomplete solution sources the highest quality reference data/data sets from official national postal services like Royal Mail's postal address file (PAF), USPS CASS, Canada SERP, etc.
Integrations – While many companies have their own CRM, ERP and various ecosystems, the solution should be easily integrable and even have plugins for various eCommerce platforms like Shopify and WooCommerce.
Melissa – The Address Experts
As the leader in address verification, Melissa combines decades of experience with unmatched technology and global support to offer solutions that quickly and accurately verify addresses in real-time, at the point of entry. Melissa is a single-source vendor for address management, data hygiene and pre-sorting solutions, empowering businesses all over the world to effectively manage their data quality.