Address Keys Unlock the Power of Master Address Data
Any book made publicly available can be identified by an ISBN (International Standard Book Number). It's a unique identifier used worldwide by publishers, booksellers, and libraries for ordering, listing and stock control activities.
Just like an ISBN, your business can utilize a unique identifier for every street address in your database.
Introducing MAK – Melissa Address Key
A MAK is a persistent, unique 10-digit key that Melissa assigns to each U.S., Canadian and international address.
MAK technology provides complete address coverage and makes it easy to manage and link addresses in your database for analytics enrichment, mapping, risk assessment, resource allocation and utilities planning. MAKs also make it simple and easy to:
Optimize address updates from USPS and other postal authorities
Improve speed and accuracy in searching and matching records in your database
Ensure true anonymization for privacy compliance
Empower easy linking with geo-spatial enrichments
Access detailed location data for every address in the U.S., Canada and many Western European countries, with more on the way
The Impact of Bad Addresses & Address Changes
Accurate address data is key to commerce, communication, customer intelligence, and proper planning. Without it, your business faces many challenges, including:
Increased mail waste in materials, labor, time and postage
Poor customer satisfaction associated with late or undeliverable-as-addressed mail and shipments
Inability to communicate in a timely manner with customers for invoicing, marketing and other important correspondence
Lack of accurate data to map customer locations for logistics planning, target marketing and business intelligence
And, the USPS, as well as other postal authorities, make changes to their address data files every month. In the U.S. alone, there can average between 30,000 to 40,000 changes monthly, including: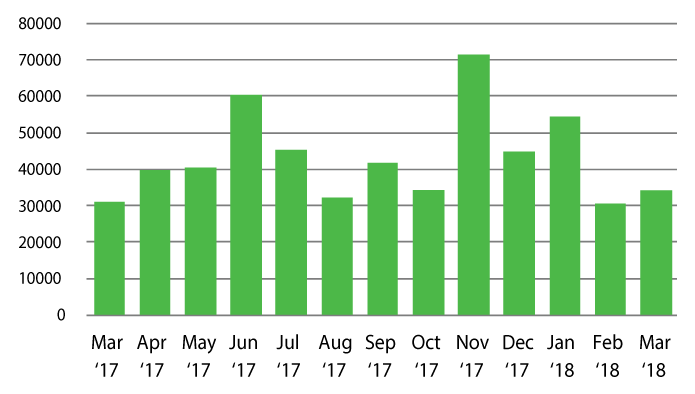 Corrections to USPS Data Updates to fix misspellings, inaccuracies, and to remove addresses that no longer exist (e.g. natural disasters).
E-911 and LACSLink Changes Changes to similar street names (preferred street name instead of alternate or unofficial street name) to reduce confusion for emergency response.
Street Name Changes Counties, cities and towns decide to rename streets for vanity reasons or to honor a veteran, celebrity or other person.
ZIP Code and/or Plus4 Changes Occurs when there is a large amount of growth in an area and the USPS needs to split a ZIP Code or rearrange ZIP+4 Codes to ensure efficiency in mail delivery.
MAK Technology Improves Address Quality
MAKs make it easier to handle crucial, often tricky, address data by:
Automatically updating changes to addresses including new ZIP Code designations, LACSLink information and vanity city names
Providing CASS and SERP Certified processing to standardize addresses with Delivery Point Validation (DPV)
Easily linking address data across multiple databases and enriching customer records with demographics, firmographics, geographic and property information
Reducing processing requirements, server time and labor – only need to update MAKs that represent addresses that have changed in some way
Ensuring global standardization by formatting addresses to local country requirements
MAK Overcomes Domestic & International Address Hurdles
U.S. and Canadian Address Problem Solving
Processing your records through Melissa's Address Verification service provides each address with a MAK. Our address verification service simultaneously performs all USPS CASS and Canada Post SERP Certified address corrections to fix: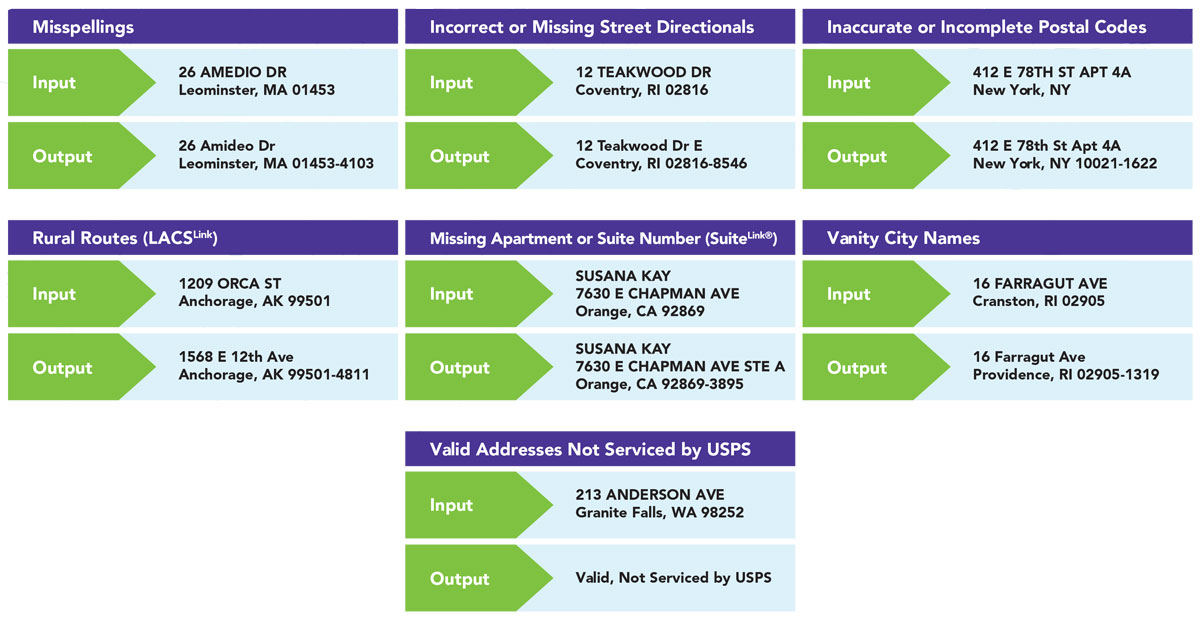 International Address Problem Solving
International addresses present the same inaccuracies as U.S. and Canadian addresses – but many countries have additional address fields, raising additional issues with dependent locality, double dependent locality, administrative areas and sub administrative areas. Add to that the complication of diverse official languages with diacretics, accents, cedillas and different character sets, and the challenges of handling international addresses are multiplied tenfold.
Wouldn't it be nice to utilize a single address key for each of these international addresses?

MAK Technology Provides Complete Address Coverage
A unique MAK is assigned for every U.S. and Canadian address with support for many countries around the world. Visit www.melissa.com/mak-wiki for the most up-to-date country support and address counts.
U.S.
120+ million street addresses
22+ million P.O. Boxes
51+ million apartments/suites
5+ million addresses non-USPS addresses (valid but not delivered to by USPS)
6+ million undeveloped addresses
Canada
15+ million street addresses
Western Europe
23+ million German addresses
32+ million UK addresses
25+ million French addresses
8+ million Spanish addresses
25+ million Italian addresses
MAK Improves Data Management
Because MAKs are simple, 10-digit, 64-bit integers, they are inherently easier to manage and utilize in applications. Additionally, MAKs provide the following data management benefits.
Process Data More Efficiently
Melissa automatically updates MAKs monthly with the most accurate USPS and other postal data. By utilizing a MAK, you don't need to worry about outdated address information. Easily retrieve changes to:
ZIP Codes and Plus 4s
Street Names
City Names
Latitude/Longitude Coordinates (Geocodes)
Let's say your database contains 100 million addresses. It is likely that 30-50 thousand of those addresses have changed over the last quarter. By only processing the MAKs that have changed during that time, your data management and upkeep process that used to take hours or days can now be done in minutes.

You can also easily link MAKs (instead of the actual address data fields) across multiple information silos for easier management and updating.
Ensure Customer Privacy and Anonymization
MAK numbers are randomly generated, non-sequential and carry no personally identifiable information (PII). They cannot be reverse engineered. Only a query to a Melissa service or secondary database can decode a MAK number. This makes them the ideal vehicle to share with vendors and partners while maintaining true data anonymity to ensure your customer data is not exposed unnecessarily.

Store and Transmit Data More Efficiently
MAKs provide storage and transmission savings for all your contact records. A MAK is a 64-bit integer, so it only requires 8 bytes of storage while a fully described address can require 10 times that amount. This can lead to a 4-fold improvement in data storage, indices, backups and I/O during data transfers.

Accurately Match, Household and Dedupe Records
Traditional deduplication techniques are prone to false negatives due to subtle differences in the address. With MAK technology, it is very easy to identify and group duplicate records that have the same BaseMAK.
In addition, deduplication can be done between an address having a known suite or apartment number and the same address lacking a specific suite or apartment indicator, or to identify all suites in one complex.

Enrich Data Easily
A MAK can tie together comprehensive geographic, demographic, firmographic, and/or property information associated with a particular address. Some of the enrichments available with a MAK include:
Latitude and longitude coordinates
FIPS, tract and block, and other demographics
Property and mortgage data, including lot size and building square footage, parcel shape, current value and more
Hazard data for wind, water, earth and wildfire risks

The ability to link other data sets is central to the utility of MAKs. Melissa has multiple on-premises and Cloud APIs that accept a MAK as the input, making it a breeze to enrich records. You can easily join the data provided from these other services together through a MAK and be certain that the information is accurate and up-to-date.
Global Address API
Provides address verification for 240+ countries, corrects and adds missing postal elements, and standardizes addresses to local country format.
Geocoder API
Coverts street addresses in U.S., Canada and international countries to precise (roof-top) latitude and longitude coordinates for accurate visualization and mapping.
Personator API
Leverages a multisourced dataset of billions of consumer records to verify a name matches address, phone is callable and email address is active. Ideal for consumer verification and fraud prevention.
U.S. Property API
Enriches records with mortgage and property data for 140+ million U.S. properties.
Global Business API
Appends firmographic data on 25+ million U.S. businesses including company name, SIC/NAICS code, sales volume, number of employees and more.
SmartMover API
Compares customer records to the USPS NCOALink change of address file and/or Canada Post NCOA file and returns an updated address for customers that have moved.
Visit www.melissa.com/api for a free trial of the above APIs.
MAKs and the Melissa Address Table - Complete Your Master Address File
The Melissa Address Table (MAT) is a unique product that allows you to find all of the existing addresses in a specific area, for instance, school district, ZIP Code (or group of ZIP Codes), city, state, country or any shape-based search like a radius or polygon.
MAT is the ideal way to access complete location-based information on every address in your target of interest and fuel your GIS applications to provide:
Optimized route planning for logistics success
More efficient utilities management (waste, water, etc) and planning
More accurate analytics for risk management, routing and sales intelligence
When you purchase MAT, you get complete coverage and complete intelligence on all of the valid addresses within a given area. Fully customizable ordering online, plus subscriptions available to keep your MAT file up-to-date with changes or additions.
View MAT counts and order here: https://www.melissa.com/melissa-address-table
Want to Learn More About Melissa?
Fill out your contact information and find out how you can improve your business and bottom line by partnering with Melissa, the Address Experts.