Change of Address/NCOA Processing
Change of Address/NCOA Service Provides Current Addresses for U.S. and Canada Customers
Almost 15% of the U.S. population moves every year. Is your database up to date? If not, you could be wasting money on Undeliverable-as-Addressed (UAA) mail and address correction fees. Change of Address/NCOA Web service provides fast, easy, change-of-address processing for U.S. and Canadian addresses so you can:
Reduce mailing costs associated with UAA mail

Stay in touch with customers, even when they move

Meet USPS® Move Update standard for postal discounts
We mail 100,000 pieces a month across the U.S. If you don't want to waste money, you NCOA it.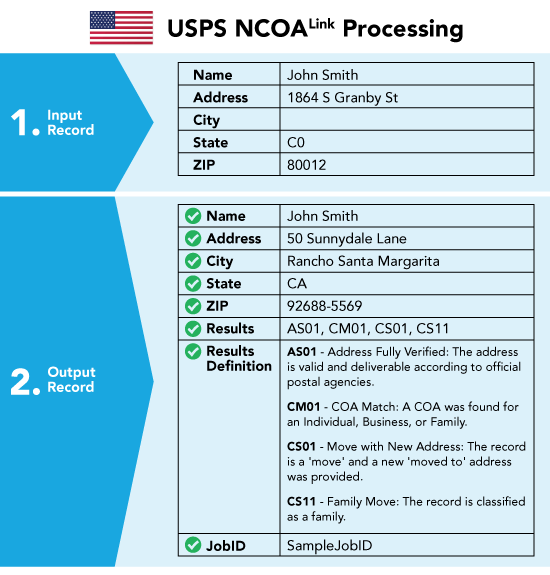 USPS NCOALink Processing
SmartMover provides NCOALink processing to validate each address in your data file, employing USPS CASS Certified™ address correction. Once addresses are corrected, each customer record is matched against the USPS 48-month NCOALink database containing the most recent 160 million moves. When a match is made, we will update your address file with the most current address information.
Mailing lists that are processed through SmartMover meet the USPS Move-Update requirement for a period of 95 days from the date of processing. This requirement applies to all First-Class Mail® and all Standard Mail®. If you mail on a regular basis, we recommend establishing a processing schedule to ensure that your mailing list is in compliance with the USPS requirement.
Melissa is a NCOALink® Full Service Provider licensee of the USPS. NCOALink®processing requires a processing Acknowledgement Form (PAF). Download a copy of our NCOALink® PAF.
Request Demo Now
Canada NCOA Processing
Over 1 million Canadian households and businesses move each year. SmartMover will match your address file against the Canada Post NCOA™ database containing over 10 million records from the last 72 months.
Canadian NCOA processing may be performed in conjunction with Canadian Address Hygiene, but this is not a requirement. However, it is necessary to qualify for Canada Post's Incentive Lettermail, Addressed Admail and Publication Mail rates. SmartMover utilizes SERP Certified™ address correction to process and standardize your mailing list and a Statement of Accuracy (SOA) is provided to report the percentage of accurate addresses when mail is deposited with Canada Post.
Melissa is one of only a handful of Canada Post licensees. Canada NCOA processing requires a signed copy of the Canadian NCOA Acknowledgement Form. Download a copy of our Canadian NCOA form.
Request Demo Now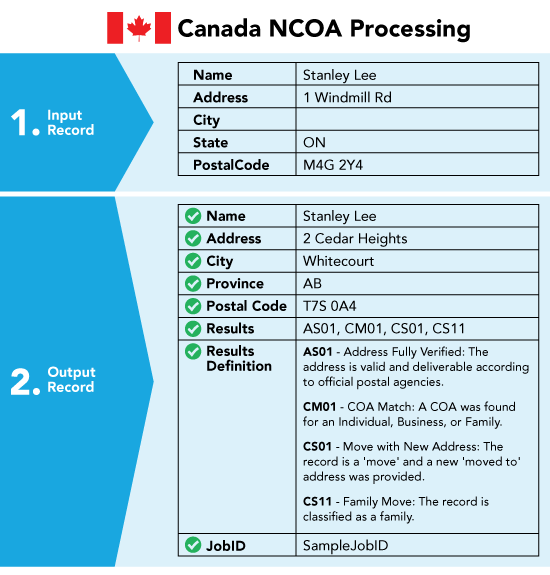 Video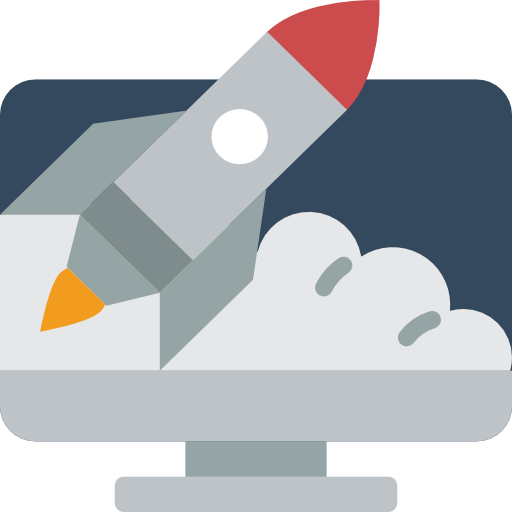 Product Sheet