Melissa's 2019 Solutions Catalog
Solutions for Global Data Quality
Verify
Verify all customer data: address, phone, email, name and digital identity.
Enrich
Enrich business and consumer records with demographic, firmographic, property & geographic data elements.
Match
Dedupe and match similar records for a single customer view - improving operations & customer support.
Identity Verification: Successful Strategies to Minimize False Positives and Risk
Application fraud will cause more than $2.7 billion in U.S. credit card fraud losses through 2020. Learn how to minimize the problem of false positives, while improving the customer onboarding experience.
Download Now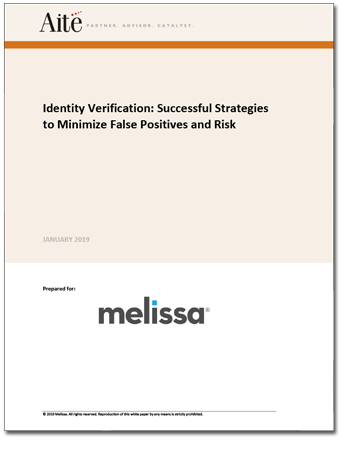 See the real-world benefits and results using our leading-edge solutions.
The latest news, press releases, and analyst reports so you can stay up-to-date with all things Melissa.
Melissa Debuts Mobile KYC App and Business Portal to Simplify Identity Verification
Seamless Data Quality Toolset Includes Document Verification, Biometrics and Liveness Check
Melissa Highlights Big Data Quality Tools at CDAO Singapore
Demos its comprehensive suite of Big Data Quality tools and services at Chief Data & Analytics Officer Singapore, July 23-24, 2019.
View All News