More than 40 million people move each year. To ensure address quality, the USPS requires mailers meet the Move Update Standard by using at least one of four USPS-approved methods: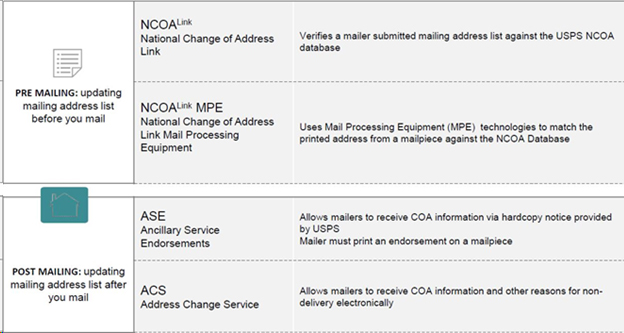 ACS (Address Change Service) and ASE (Ancillary Service Endorsements) do not necessarily meet the Move Update requirement for the mailing since they are post-mailing methods; however, as long as you continue to mail to your customers at least once every 95 days using a post-mailing method, and update your addresses to be used on the mailpieces before the next mailing, you are in compliance with Move Update. Otherwise, if you mail more than 95 days after the last mailing or if this is the very first time you mail to an address that you obtain other than directly from your addressee (in the last 95 days), you must use an approved method or mail the pieces at the single-piece First-Class Mail price.
How Does ACS (Address Change Service) Work?
ACS is used in conjunction with the Intelligent Mail barcode (IMb) and/or Ancillary Service Endorsements to ensure mail reaches the proper destination. The purpose of ACS services is to reduce the volume of printed address correction notifications handled by both the Postal Service and mailers and centralize/automate the provision of address correction information to mailers. There are four types of ACS services options:
OneCode ACSAllows mailers to receive electronic address corrections using the Intelligent Mail barcode (IMb) on First Class, Marketing Mail, and Periodical Flat or Letter mailings.
Traditional ACSAllows customers to receive notifications of undeliverable mail (UAA) and change of address (COA) electronically, but the Intelligent Mail Barcode is NOT required.
Full-Service ACSProvided as an additional benefit for mail that qualifies for Full-Service discount Postage Prices using the Intelligent Mail Barcode.
IMpb ACS Uses Intelligent Mail Package Barcode.
What are the Benefits of ACS?
Since ACS is electronic/automated, it has many benefits over manual address correction:
Reduce the volume of undeliverable-as-addressed (UAA) mail
Reduce manual address correction costs
Reduce labor-intensive address change functions by minimizing returned mail
Select electronic or automated address change information for specific mailings
Choose when to retrieve fulfillment of time-sensitive information
Retrieve address change information electronically via a secure Internet site
What Information is Included Within the IMb for OneCode ACS Mailings?
OneCode ACS utilizes the Intelligent Mail barcode. This means less resources are required to identify the mailer/mailer's and their choice of service(s), resulting in increased accuracy and efficiency. The Intelligent Mail barcode contains the following information:
Presort information (flats only)
Service Type Identifier that requests specific services like ACS and/or Informed Visibility (IV)
Mailer ID that identifies the mail owner or mail service provider
Serial or sequence number that uniquely identifies the mailpiece or the addressee
Routing information that provides the ZIP Code and delivery point validation that allows the mail to be sorted directly to the address
How Does ASE (Ancillary Service Endorsements) Work?
Ancillary Service Endorsements provide the Postal Service with instructions on how to handle your mail if it's UAA (undeliverable as addressed). Any mailer may use one of four move update-compliant Ancillary Service Endorsements to request a notification of the addressee's new address. Mailers may use the following endorsements with First-Class Mail, USPS Marketing Mail, and Parcel Select Lightweight service to initiate this updating method:
Address Service Requested
Return Service Requested
Change Service Requested
Temp-Return Service Requested
Since undeliverable USPS Marketing Mail that doesn't have an endorsement is disposed of by the Postal Service, it's important to make sure your address list is correct and current to avoid unnecessary costs and waste. As outlined in the 2020 USPS Move Update Guide, Ancillary Service Endorsements:
Allow the sender to obtain, on request, the addressee's new (forwarding) address (if the addressee filed a change-of-address order with the Postal Service) or the reason for nondelivery.
These endorsements also provide the Postal Service with instructions for the disposition of undeliverable-as-addressed mail
Why Melissa?
For decades, thousands of businesses have trusted Melissa with their data quality needs with leading-edge solutions to clean, verify, update, dedupe and enrich customer contact data. Melissa's easy-to-use direct mail software and services provide flexible options for implementing Move Update Methods to ensure your mail gets delivered to the right recipients. Mailers+4 Desktop Postal Automation Software and Mailers+4 Online Software as a Service (SaaS) prepare your bulk mail pieces quickly and accurately. Presort Object, Melissa's customizable, on-premise API, can easily be integrated into your current system for maximum postal processing speed and efficiency.