Extract, Transform, Load (ETL) is the process of integrating data from multiple sources into a data warehouse or other system. During the ETL process, data is extracted from its original source, converted or transformed into a format that can be analyzed, and then loaded into its final destination.
How Does ETL Work, and why is it Important?
Many businesses face challenges associated with moving data from multiple sources into one or more data stores. Oftentimes, the data is in different formats and needs to be cleaned and standardized before it can be loaded into its new destination. As the number of different data formats, sources and systems has expanded over the years, ETL has become the standard method for data integration.
How it Works: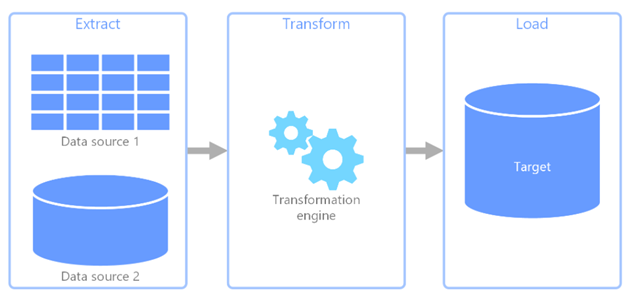 The ETL process is important as it allows businesses to gain a complete picture of their data for better analytics and reporting to power business intelligence (BI). Businesses often add data quality into the ETL workflow by integrating tools for data cleansing and profiling to ensure their data is accurate and concise.
Why Melissa?
Melissa has specialized in data quality management solutions for more than 35 years, and provides a comprehensive catalog of transforms for leading ETL and Data Integration platforms including Microsoft Server Integration Services (SSIS), Pentaho PDI and Talend. Melissa's built-in data quality components include Personator, our Identity Verification solution, which matches name to address, email, and phone number, and verifies national ID and age, in real-time, plus adds valuable demographics. Also included is Melissa's Global Address Verification component which cleans, standardizes, transliterates, and verifies addresses in over 240 countries. The combined solution provides the data management tools businesses need to collect data from any source, cleanse and transform it, and gain immediate insight for actionable intelligence - empowering them to foster better customer relationships.