Knowledge Explorer
Visually access, explore, report, and query your data to uncover hidden relationships, accelerate discovery and share knowledge and insight with fellow researchers.
Semantically-enhanced data integration of knowledge sources
Import, edit and merge ontologies
Data integration from virtually any source into a standards-based semantic format (RDF, N3, NT, RNEF, PSI-ML, OWL)
Find hidden relationships in data sets and create new, unified knowledge bases
Create visual network queries and refine network models iteratively
The Sentient Knowledge Explorer uses the power of semantic technologies to easily integrate data from virtually any source into coherent, unified knowledge bases.
The product permits thesauri and ontology import, creation, management, and sharing using a visual, point-and-click interface. Its functionality combined with a flexible, standards based data model, enables users to rapidly integrate new datasets as needed. Users can also create rich semantic queries directly from visual representations of the integrated data.
In addition to its core integration capabilities, the Knowledge Explorer provides visualization and filtering capabilities that improve user understanding of data and relationships and data driven research, reporting, and decision-making possible.
The Knowledge Explorer makes it possible to discover hidden relationships and patterns from previously disconnected datasets, by creating rich semantic queries directly from visual networks. The Knowledge Explorer facilitates integrated knowledge management, hypothesis generation and discovery where data integration and exploitation is integral to furthering insight.
The Knowledge Explorer accelerates research and discovery through integrating multiple data sources, uncovering hidden relationships in datasets, generating and validating hypotheses, and sharing novel insights.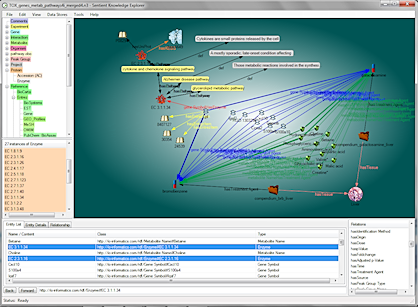 Request Demo
If you would like to request a product demo please fill out the form & we will get you set up right away!