Enrich your B2B database with information on companies and business professionals
Melissa Global Business API accesses a multisource dataset of over 25 million U.S. businesses & 40 million contacts providing comprehensive firmographic data on companies and organizations. This service helps you resolve business entities for standardization and record consolidation, plus it provides a wealth of fundamental characteristics about a business that can be utilized for decision making, lead scoring and optimized B2B marketing and sales efforts.
Add valuable business characteristics including SIC/NAICS, sales volume, number of employees , and more for improved analytics and segmentation

Standardize business names and acronyms (TWC – Time Warner Cable) to prevent duplicate accounts

Update outdated contact information to improve customer retention and prevent lost opportunities

Search for a particular business using company name, address, phone , and other inputs
Try Melissa's Global Business API
Enter Company Name or Address Below: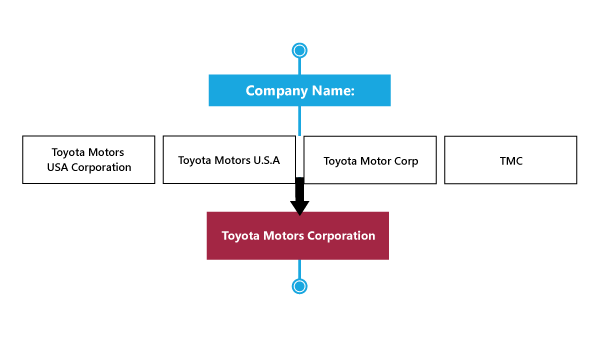 Business Standardization
The way company names are entered into a system can vary widely, making it a prime pain point for deduplication efforts. For instance, a CRM may have the following company names: "Toyota Motors USA Corporation," "Toyota Motors USA.," "Toyota Motor Corp.," and "TMC." Global Business can normalize all of these business names to one entity: "Toyota Motors Corporation". Resolving multiple similar business names to one golden standard provides data standardization that is key for successful deduplication and record matching efforts, and it helps reduce the creation of duplicative accounts as data is entered by sales and marketing teams.

Global Business will also resolve misspelled or incomplete business names – simply pass in the address, phone , or stock ticker and Global Business will return a standardized business name, contact information , and firmographic details.
Firmographic Append
In addition to standardizing business names, Global Business can also return a wealth of business demographics, known as firmographics. By leveraging firmographics, you can gain knowledge of a business' profile – company size, location, industry, and value. The helps optimize marketing segmentation for more effective lead generation campaigns, and assists in lead scoring so that sales teams can prioritize efforts and personalize their approach, and enriches datasets for more accurate decision making and analytics.

Global Business also returns updated information on a business including address, phone, web address and other contact details. This helps prevent lost opportunities due to outdated or incorrect contact information that your sales and marketing teams rely on for customer retention and outreach efforts.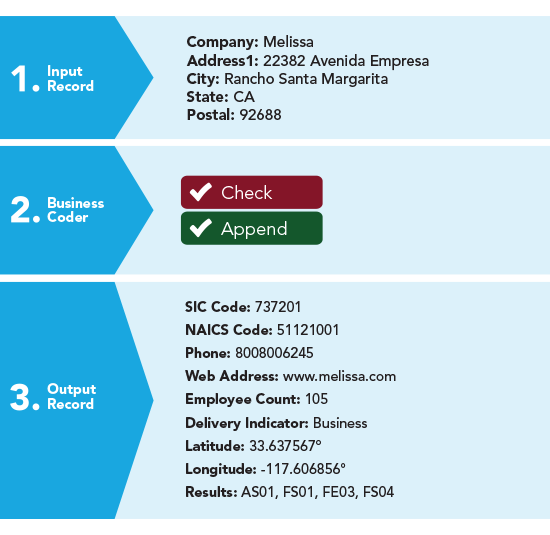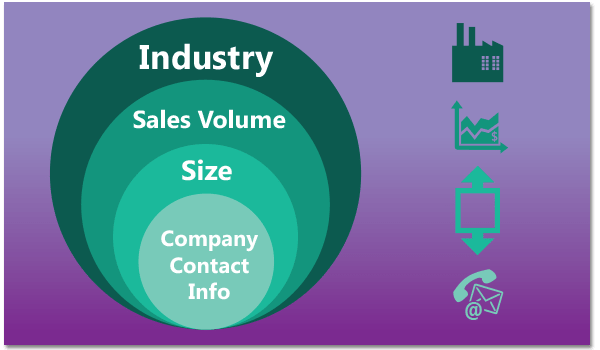 U.S. Data Elements
Accessing a wealth of firmographic data for 25 million U.S. businesses is easy. All you need to do is provide an address, StockTicker, website, phone number, or Melissa Address Key (MAK), and Global Business will return the following:
Company Name

Contact

Job Title

Phone Number

Email

Address

Suite

City

State

Postal Code Plus4

Delivery Type Indicator

Melissa Address Key

Melissa Address Key Base

Melissa Enterprise Key

EIN Number

Location Type (headquarters, branches, single location, subsidiary headquarters)
Employee Numbers estimate

Sales Volume estimate

StockTicker abbreviation

Web Address

Up to 3 SIC/NAICS codes and descriptions

Latitude (geo coordinate)

Longitude (geo coordinate)

County Name

FIPS of County (Federal Information Processing Standard)

Census Tract of the address

Census Block of the address

Place Code (Census Bureau)

Place Name (Census Bureau)
UK Data Elements
With access to 4 million UK business records, Global Business can quickly identify the validity of a business, and also standardize and correct addresses. Simply enter a phone number or MAK, and Global Business will provide you with the following:
Address Lines 1-4

Address Type

Administrative Area

Building

Company Name

Country Code

Country Name

County Name

Dependent Locality

Dependent Thoroughfare

Double Dependent Locality

Formatted Address
Latitude / Longitude

Locality

Melissa Address Key

Melissa Address Key Base

Post Box

Postal Code

Premises Type

Sub Administrative Area

Sub National Area

Sub Premises

Thoroughfare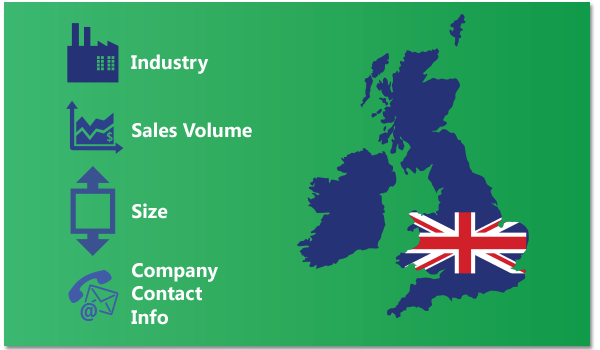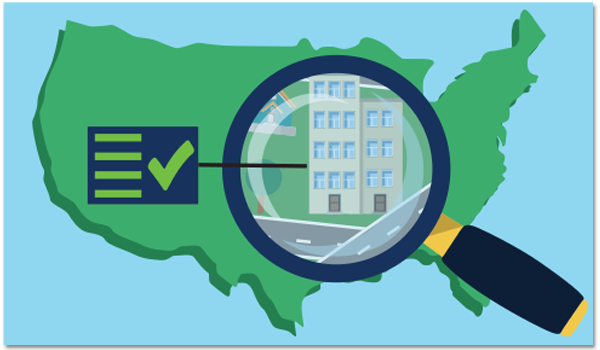 Business Search U.S.
Business Search is a Web API addon for Business Coder that finds and identifies U.S. businesses. Search for a particular business using any of the following input fields:
Company Name

Company Address

Company Phone Number

Stock Ticker

Company Web Address

Melissa Address Key (MAK)

Melissa Enterprise Key (MEK)
None of the fields above are mandatory when sending a request. Depending on the options and configuration of a particular request, which can be fine-tuned to fit your specific need, the service will return all of the related business data. Send in any number of inputs and Business Search will do its job and find all of the relevant records.

In addition, Business Search provides previous addresses for a particular business as well as associated phone numbers. All of the returned business information has been verified by Melissa, so you can count on the quality of the data returned for your search parameters.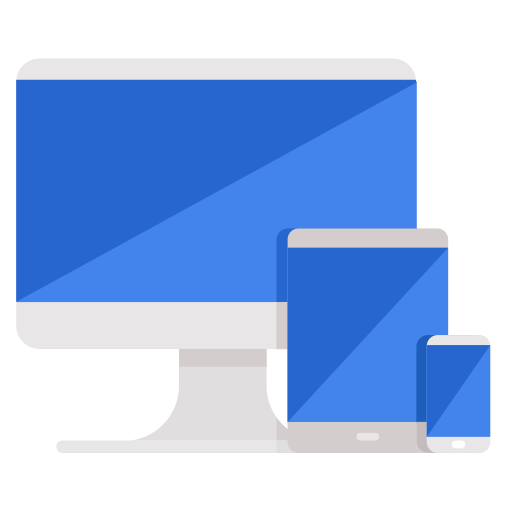 Request a Demonstration
A demonstration with one of our representatives gives you a first-hand look at our products in action. Request one today.
Request Demo Now
Vimeo Video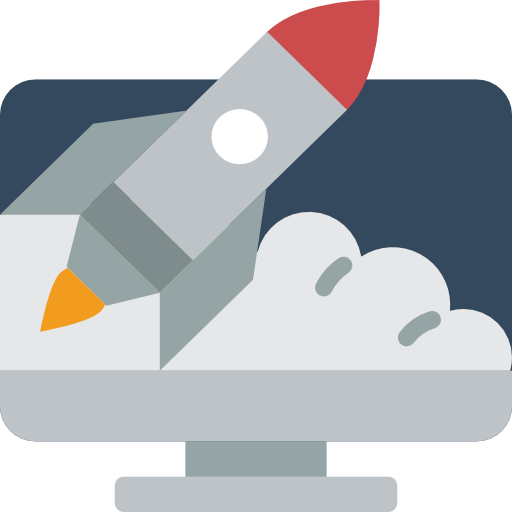 Product Sheet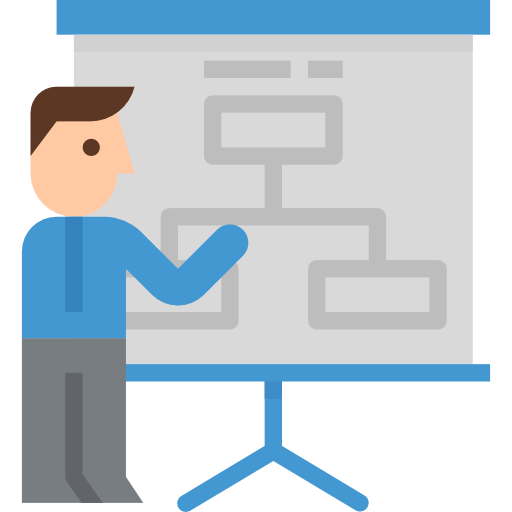 Global Business API Product Sheet
Read Now