Celebrating 35 Years in Global Intelligence – Healthy Data Starts Here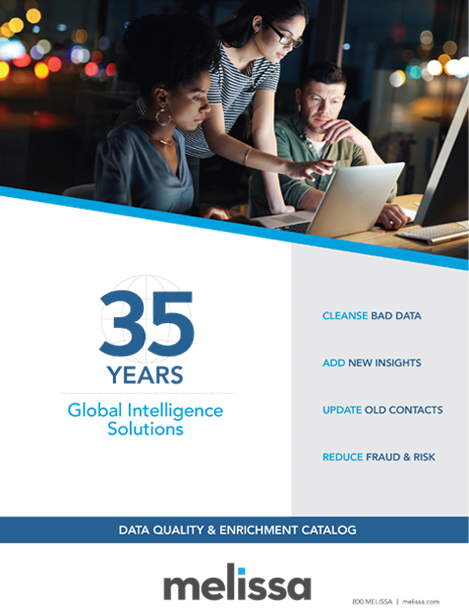 Celebrating our 35th year in address management, data quality, identity verification and enrichment – Melissa brings you our new solutions catalog. It features our full suite of solutions and services that help you battle the dirty, bad and ugly data that costs you money, clients and insights. Our decades of expertise coupled with the latest innovations, work to clean up your customer contact records – addresses, names, phones and emails – to improve deliverability, communication and business operations.
Explore what powers data-driven success for over 10,000 organizations worldwide:
Enterprise Capabilities: Verify, cleanse, dedupe & update databases
Data Appends: Fill knowledge gaps with addresses, names, phones & emails
Shop our Data Marketplace: Consumers, Businesses, Property Owners, Saturation/Occupants & more
Address Management Solutions: Bulk mailing solutions, change of address updates & more
Identity Resolution & Enrichment: Watchlist screening, real-time verification & demographic enrichments
And so much more!