What Kills the Customer Experience?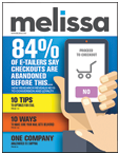 In the lifecycle of the online purchase, there are two customer "pain points" – checkout and delivery. These pain points either make or break the purchase experience. So what do customers want? Learn the facts and stats on how to drive conversions and loyalty instead of killing the customer experience.

Read More.
| | |
| --- | --- |
| | Did you know that 69% of consumers are less likely to shop with a retailer in the future if an item they purchased is not delivered within two days of the date promised? A recent study of online consumers revealed that reliable and accurate product delivery determined customer loyalty. |
What's New At Melissa?
Melissa Brings Comprehensive Global Intelligence to Federal ID Forum
Melissa recently demonstrated its cutting-edge, real-time tools to professionals across 30 countries and 100 government organizations at the Federal ID Forum, which hosted keynote speaker Claire Grady, second-in-command for Department of Homeland Security. Melissa's solutions achieve entity resolution and compliance in areas of Anti Money Laundering, Fraud Prevention, Politically Exposed Persons, and with Bank Secrecy Act regulations.

See our Solutions
New & Improved Products

Listware – Clean and Enriched Data

• New Feature – Caller ID. Listware can authenticate ownership of mobile numbers and ensure phone numbers are live and callable.

• New Feature – U.S. Property. Listware now provides access to property and mortgage data including parcel details, owner name and mailing address, property value, and more.

Free Download. Use 1,000 credits free - every month.
Meet Our Experts at Tradeshows & Conferences
Stay connected to receive the very latest from Melissa - monthly data quality tips and insights from marketers, mailers, and data professionals. To make sure we have your current email, or to sign up, visit our subscription preferences page.

Melissa | 22382 Avenida Empresa | RSM, CA 92688 USA
www.Melissa.com

If you do not wish to receive future newsletters [UnSub]
ContactEditor.asp