Melissa Ranked as Top Leader in Address Verification
Melissa named Top 2023 Leader by G2 users for Address Verification!
See how our solutions for address verification, correction and standardization landed on the report plus review the high customer satisfaction scores we earned.
Download the Report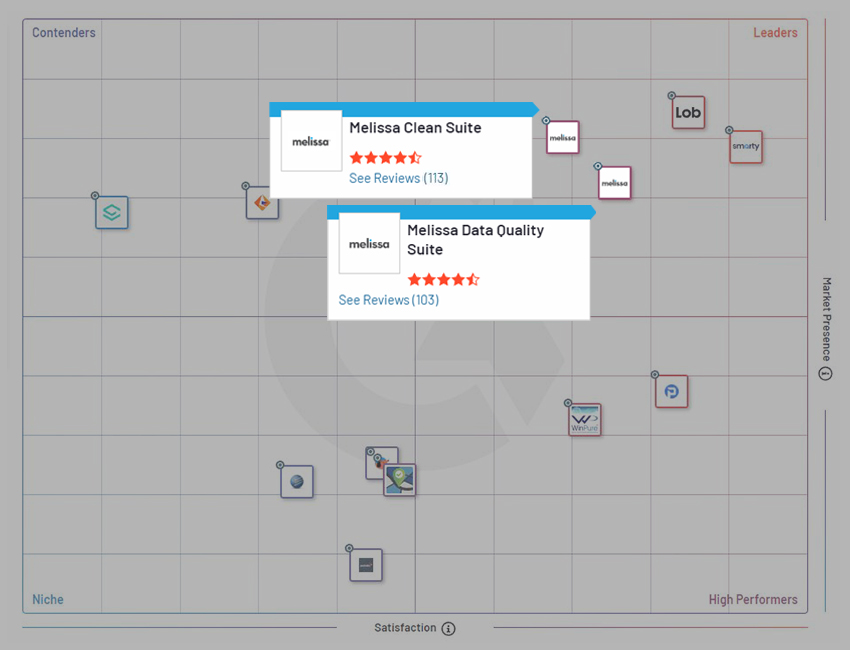 "Flexible, Accurate, Feature-Rich and Budget Friendly"
"Ability to interactively edit and correct address and location data. So many industrial strength tools on the market claim to provide a superior output, but I've tried many of them and found them difficult to set up, take time to train properly and have little if any interactive way to correct errors. Human eyes are so much better at identifying errors and patterns. By incorporating this..."
Chris L., Mid-Market User
Download the full G2 Grid® report to find:
How the top Address Verification providers measure up

Detailed product profiles and ratings of Address Verification Solutions

Customer satisfaction scores from G2 reviewers
Our commitment to providing the best Address Verification Software is reflected in our scores:
96% of users rated it 4 to 5 stars from over 100+ Customer Reviews

97% in Ease of Doing Business With

92% in Meets Requirements
"I can't believe it's so comprehensive and easy to use!"
"The amount of data you can buy is so expansive and the price is quite a bit less for some data fields versus other competitors. They are also so easy to deal with - some other companies have passed me from salesperson to salesperson before being able to see any data, but with Melissa, I got access right away and support when I needed it."
Joshua L. - Small Business User
"Great Flexibility"
"I had a couple of things that I needed in their interface and Melissa Data made modifications to enable those capabilities within a couple of weeks. They were common sense things that were available in their free lookup but were missing in their batch and Salesforce products. Great responsiveness! Other SaaS companies never provide that kind of service."
Jack O. – Small-Business User
"An easy and accurate way to consolidate contact records while cutting down on operational costs."
"Our donor database cleanup was an ongoing problem for the non-profit I worked for. We had years of hair pulling and thousands of dollars spent trying to keep it up to date. Spending time on Google or county tax sites doing reverse searches for homeowners names based on addresses was very time consuming and often provided inaccurate results. We needed an affordable way to clean our data in..."
Liz M. – Small-Business User in Marketing Marketing and Advertising
"Useful and Cost Saving on several fronts. My New Best Friend"
"Outside of the primary function as a small business, we are able to unify the state and contacts for internal and external customers. The interface is simplistic and user friendly. We liked that it was fully integrable with a couple of other solutions that we use or intend on using. There was a very little learning curve as well which made it easy to implement."
Jarvis J. – Mid-Market User
Get Access to the Report Now!
Fill out the form below to download Melissa's G2 Report.