OneCode ACS is one of the four Address Change Services (ACS) options available and allows mailers to receive electronic address corrections using the Intelligent Mail barcode (IMb) on First Class, Marketing Mail, and Periodical Flat or Letter mailings.
The Intelligent Mail barcode contains the following information:
Presort information (flats only)
Service Type Identifier that requests specific services like ACS and/or Informed Visibility (IV)
Mailer ID that identifies the mail owner or mail service provider
Serial or sequence number that uniquely identifies the mailpiece or the addressee
Routing information that provides the ZIP Code and delivery point validation that allows the mail to be sorted directly to the address
What are the Benefits of OneCode ACS?
Less resources are required to identify the mailer/mailer's choice of services, and to provide feedback to the mailer regarding the disposition of the mailpiece
More attractive pricing
Barcode data increases accuracy and efficiency
A single numeric Mailer ID is used for all classes of mail for more flexibility in the ancillary services requested
In the USPS example below, you can see how the Intelligent Mail barcode simplifies the address block, freeing up space for a cleaner-looking mailpiece:
Example of OneCode ACS Mailpiece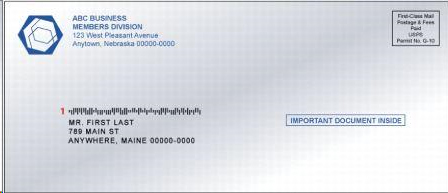 Full-Service ACS™ and OneCode ACS® data is generated when the USPS processes Undeliverable- As-Addressed (UAA) mail. Although both services return the same information, there are three main differences between the two:
Pricing (there is no fee with Full-Service ACS)
Record format and layout. Only Full-Service ACS reports include information unique to the Full-Service mailing.
Fulfillment method
Why Melissa?
For decades, thousands of businesses have trusted Melissa with their data. MAILERS+4, Melissa's postal automation software, is USPS PAVE Gold certified to presort your mail to qualify for postal discounts on First Class, Marketing Mail (Standard Mail) and Periodicals and provide you with all of the documentation you need to include with your mailing. MAILERS+4 produces IM barcodes so you can qualify for Full Service Presort and Automation rates and more easily track the progress of mailpieces as they are delivered. Melissa also offers a cloud-based mailing solution - Mailers Online - a one-stop shop to conveniently prepare your USPS compliant direct mail.